Providing the highest quality cutting-edge services
Our passion and mission is providing the highest quality cutting-edge services and products for Law Enforcement, Military and discriminating civilian clients.
With over 30 years in the firearms, defense and law enforcement tactical products industry we use our experience to provide the very best in products, services and advice to our clients.
About Red Creek Customs Cerakote Firearms Coating Services
Red Creek's Cerakote firearms coating facilities are state-of-the-art and we maintain a comprehensive inventory of Cerakote ceramic coatings with a wide selection of colors in both H and C series. In addition, Red Creek's close working relationship with NIC Industries allows us to meet most specialized needs and requirements which departments and agencies may encounter.
Cerakote gun coating services are available for rifles, handguns and shotguns,as well as optics and accessories. Cerakote ceramic coatings can be used to coat a wide range of properly prepared substrates including all metals, including titanium, aluminum and magnesium, and most plastics and polymers used in firearms frames, stocks and high-quality accessories. Special Cerakote ceramic coatings are available for tight tolerance, high-wear internal parts, such as bolts, bolt carriers, barrels, bushings, etc and for high-temp applications up to 1700°, such as suppressors and machinegun barrels.
Cerakote ceramic firearms coatings are available in single color, two-tone and multi-tone as well as basic and complex camouflage, including Red Creek's proprietary UltraBlend™ camouflage patterns and custom airbrush designs. In addition, Red Creek can create custom stencils for applying department or agency logos or identification and instructions.
See our Cerakote page for more detailed information or call or contact us for custom quotes on your coating and refinishing requirements.
What Is Cerakote Firearms Coating and Refinishing?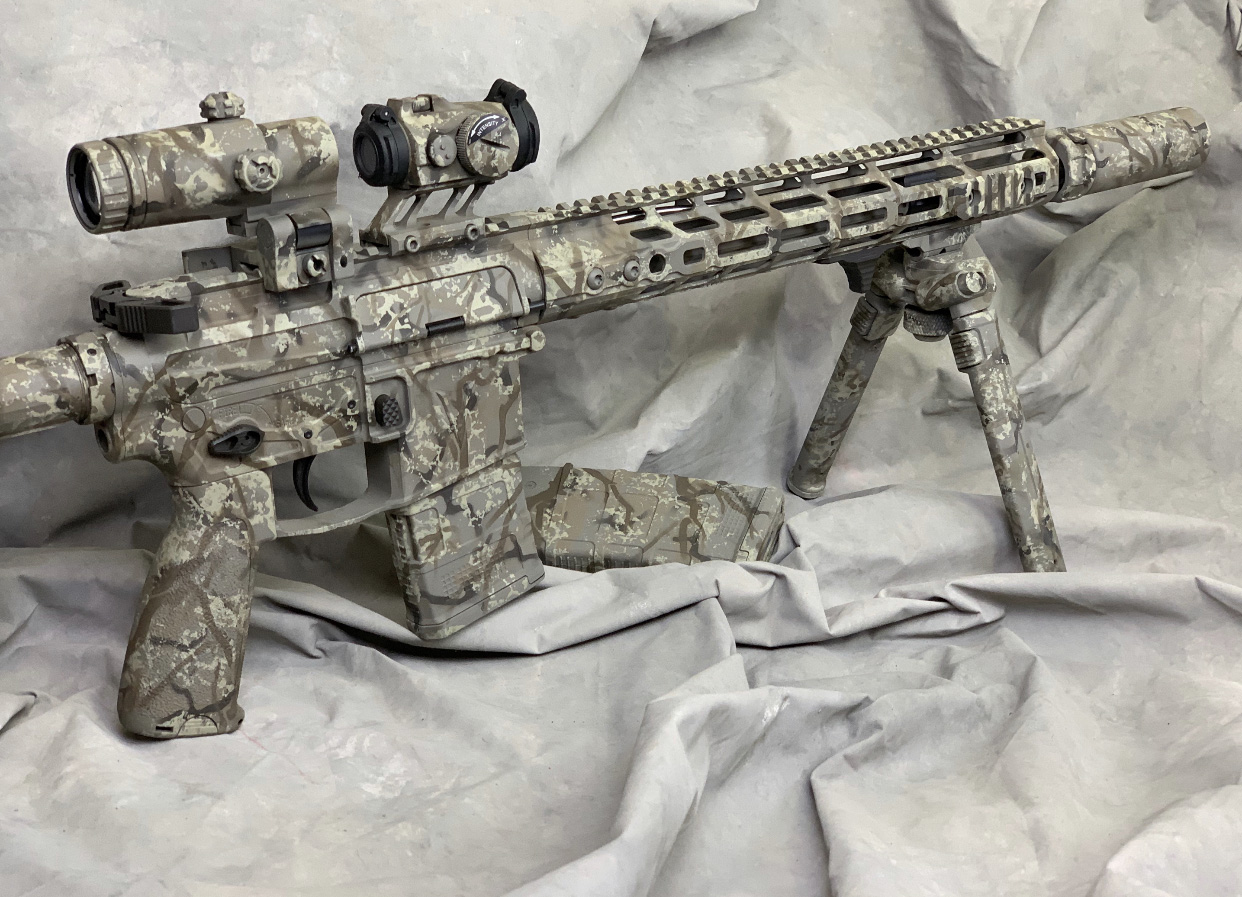 Cerakote is the finest most durable firearms coating on the market today. Cerakote is a ceramic based finish manufactured by NIC Industries. It is used by more OEM firearms manufacturers than any other finish, including SIG Saur, Colt, Smith & Wesson, Thompson Center, FN, Nighthawk Custom and many others. Cerakote is also the Mil-Spec finish for the FN's new light weight MAG 240L machinegun and other weapons systems and components.
Red Creek Customs is recognized as one of the top Cerakote applicators in the country. We are one of only a few Premier Partners for NIC, are factory trained and certified and we have coated for many Law Enforcement agencies, Military and for firearm and accessory manufactures, such as U.S. Machinegun Armory, Bravo18, OSS Suppressors, Battle Arms Development and more.
We do individual weapons and accessories or large volume coating projects. We also offer Law Enforcement and Military discounts to departments, agencies and individuals.
After studying special-effects makeup design in college, Jennie moved to Salt Lake City where she discovered the art of Cerakote.
In 2017 Jennie began apprenticing at Red Creek, studying Cerakote application techniques and camouflage theory. A lifelong artist, Jennie crafts functional works of art that blend seamlessly into their environment.
Jennie now leads our coating operation, specializing in effective camouflage pattern development. Her client list now includes law enforcement, competitive shooters, Tier 1 Special Forces operators, and various public figures.